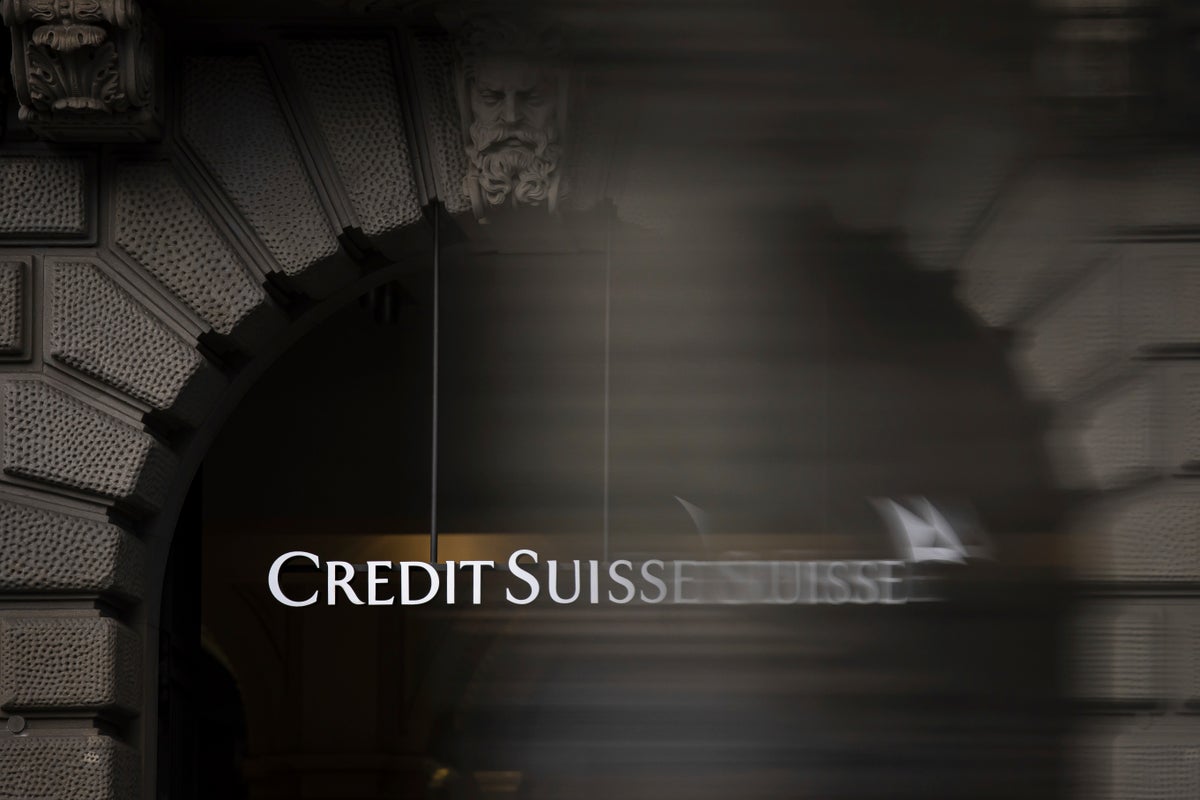 Fears of another 2008-style banking crisis resurfaced this week after banking giant UBS swept in to buy its crisis-hit rival Credit Suisse and US authorities stepped in to broker a £24.7bn rescue package for First Republic.
Stock markets have been jittery amid worries that isolated failures could widen to affect the global banking system, reviving bad memories of the financial crisis that plunged many Western economies into recession in 2008-09.
On Monday morning, shares in Credit Suisse dropped 61.95 per cent in premarket trading in Zurich after rival UBS agreed at the weekend to take over the 167-year old bank for £2.46 billion.
Credit Suisse shares were quoted at 0.61 Swiss francs (£0.54) in Julius Baer premarket trading, while those in UBS were down 4.73 per cent at 15.81 francs.
Following the takeover, Britain's FTSE 100 plunged by nearly a full percentage point in early morning trading on Monday. The FTSE 250 was also down 1 per cent, with banking stocks across the two indexes slumping by 5.3 per cent.
"The next few hours of trading will give us a better picture on whether the crisis is contained," Ipek Ozkardeskaya, a senior analyst at Swissquote Bank, said.
"In theory, there is no reason for the Credit Suisse crisis to extend, as what triggered the last quake for Credit Suisse was a confidence crisis which doesn't concern UBS – a bank outside of the turmoil, with, in addition, ample liquidity and guarantee from the SNB and the government." SNB refers to the Swiss National Bank.
The Swiss Bank Employees Association demanded that UBS keep job cuts to an "absolute minimum".
"The jobs of very many employees are at stake," it said, adding that it was in touch with management.
The statement underscores the sense of unease in Switzerland, with its reputation as a global financial center on the line.
Green Party lawmaker Gerhard Andrey said that Credit Suisse is "such a visible institute".
"This puts us in a very difficult situation as a country," he said.
The news comes after the collapse last week of Silicon Valley Bank, the second-biggest bank failure in US history.
Shares in San Francisco-based First Republic plummeted on Thursday as customers began withdrawing their money fearing it could be the next to fail, but stocks recovered as reports of the rescue package surfaced.
A joint statement from US federal financial authorities said 11 banks have agreed to pump billions into the lender to stabilise it.
The Bank of England is said to have been in talks with its global counterparts over the crisis and was reportedly in touch with both Credit Suisse and the Swiss National Bank after the bank first sought a £45bn emergency loan last week.
A rescue deal was eventually brokered by Swiss authorities on Sunday evening after desperate talks to secure its future to prevent further market chaos.
What's happening at Credit Suisse?
The lender has been struggling for many months, but this week sought help from the Swiss government after revealing it had found "material weakness" in its financial situation.
Its top shareholder, the Saudi National Bank (SNB), said it could not provide fresh funding because of a regulatory cap; news of that limit sent shares in the Swiss lender plummeting more than 30 per cent at one point on Wednesday to a record low of about 1.56 Swiss francs (£1.40) a share.
How worried should we be?
Economist Nouriel Roubini, who predicted the fall of Lehman Brothers in 2008, leading to the global financial crisis, warned the world could be on the verge of another systemic crisis.
But former deputy Bank of England governor, Sir John Gieve, said the support behind Credit Suisse was a key point of difference to the case of Lehman Brothers.
"Credit Suisse is like Lehman Brothers in terms of scale and complexity and importance but there's a big difference if you remember the Americans didn't save Lehman Brothers," Sir John said.
"That was what spooked the markets as a whole because they didn't stand behind it. What we've seen overnight is the Swiss bank saying they won't let this get into a disorderly collapse. I don't know what the future for Credit Suisse holds but so far they're still standing and it looks like the Swiss central bank will ensure its standing long enough to rearrange its affairs for the future."
Sir John added that the big difference between the current issues of high-interest rates and 2008, is the central banks stepping in to ensure there is no disorderly collapse.
"If you go back a couple of months the first sort of problem arising in the financial market from higher interest rates was here in the UK with our pension funds," Sir John said.
"If you remember, our central bank stepped in and provided the money to ensure it didn't have repercussions elsewhere, so the message is absolutely clear that the central banks are standing behind these banks that are getting into trouble."
Why was Credit Suisse at risk?
In the past three years, Credit Suisse has been caught up in corporate espionage after hiring professional spies to track outgoing executives and admitting to defrauding investors as part of the Mozambique "tuna bonds" loan scandal. That resulted in a fine worth more than £350m. It was also embroiled in the collapse of the lender Greensill Capital and the US hedge fund Archegos Capital in 2021.
The bank is in the process of a major restructuring plan, meant to stem major losses, which ballooned to 7.3bn Swiss francs in 2022, and revive operations hampered by multiple scandals over the past decade involving alleged misconduct, sanctions busting, money laundering and tax evasion.
How big is Credit Suisse?
The Swiss bank, widely regarded as "too big to fail" by experts, primarily serves wealthy clients and businesses rather than everyday savers. It has been pulling money from the bank for months, leading to more than 111bn Swiss francs of outflows late last year. It was not immediately clear last week whether client withdrawals had gathered pace as a result of its plunging share price.
As Europe's 17th largest lender by assets, it is far larger than Silicon Valley Bank and deemed systemically important to the global financial system.
The Bank of England is reportedly monitoring the developments in the financial sector very closely and issued a statement last week reassuring that the UK banking system is not at risk and "remains safe, sound, and well-capitalised".