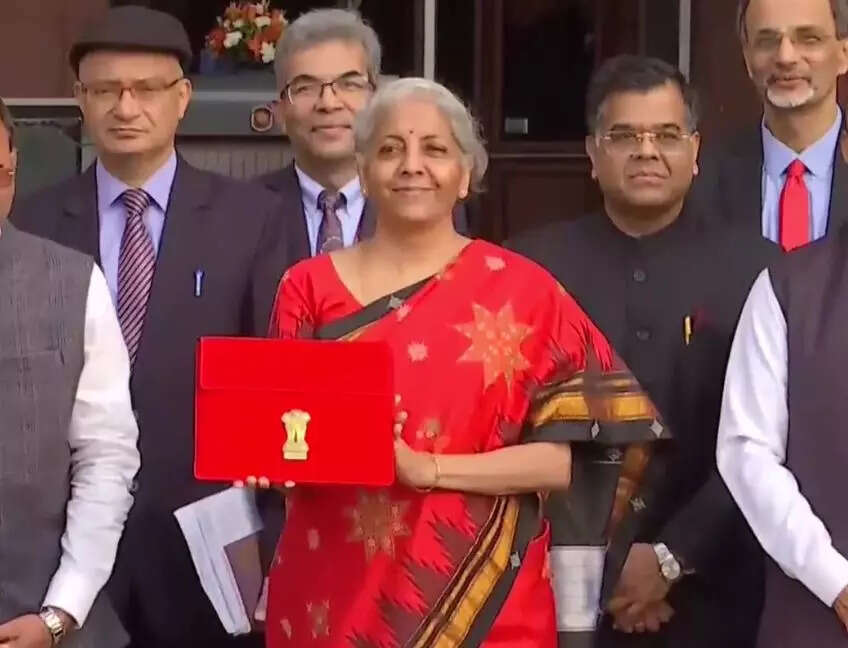 THE TIMES OF INDIA | Feb 01, 2023, 09:43:17 IST
Budget 2023 Live Updates: Finance Minister Nirmala Sitharaman has reached Rashtrapati Bhavan ahead of presenting the Budget to meet President Draupadi Murmu. Sitharaman will deliver the Union Budget 2023 speech today, that is, February 1, 2023. The Budget speech is expected to start at 11:00 AM. This will be the last full Budget of the second Narendra Modi government ahead of general elections in 2024. India Budget 2023 will be presented at a time when the major advanced economies in the world are crippled by a slow down and are even staring at a possible recession.
In this backdrop, the Economic Survey still expects India's GDP to grow between the 6-6.8% range, maintaining its tag of being the fastest growing economy in the world. What also bodes well for the GDP growth prospects is that the Survey has said that India's recovery from the shock of the COVID-19 pandemic is complete.
Finance Minister Nirmala Sitharaman is expected to continue with her focus on aiding economic growth with the help of public sector capital expenditure. The public capex push also becomes important since the private sector investment revival is still tentative. But, Sitharaman also has the crucial task of not just maintaining the fiscal deficit target of 6.4%, but also providing a credible road map to bring it down further in the coming years, closer to the FRBM target.
Looking to reduce its own dependence on China and also position India as a lucrative manufacturing hub, the Production Linked Incentive (PLI) scheme was launched. At present the PLI scheme is available for 14 major sectors including renewable energy, auto, telecom, mobile phones etc.
FM Nirmala Sitharaman is expected to announce the PLI scheme for more sectors and also additional incentives for the sectors already covered under the PLI scheme.
Agriculture is a major contributor of GDP growth and also provides employment to a lot of people. Union Budget 2023 is therefore likely to continue the government's focus on doubling farmers' incomes and also enhance agriculture infrastructure to do away with any bottlenecks.
Infrastructure sector is the backbone of any economy and the government has been pushing for the sector's growth for its multiplier effect and linkage effects in terms of job creation. PM Gati Shakti, National Monetisation Pipeline, National Infrastructure Pipeline, roadways, highways, Railway Budget 2023 , shipping are all expected to find significant mention in the Budget speech. Additionally, the Budget is also likely to make key announcements on promotion of Digital India, digital economy, UPIs and even the pilot project on the launch of digital rupee.
On the first day of the Parliament's Budget session Prime Minister Narendra Modi said that Budget 2023 by FM Sitharaman will aim to fulfill the aspirations of the common man. He also said that the world is looking at the Indian economy as a bright spot. Every year the common man has expectations that the Budget will announce changes in the income tax rates and even possibly the income tax slabs.
Tax experts also want FM Nirmala Sitharaman to enhance the limits of popular exemptions such as Section 80C and 80D. Track TOI for comprehensive, in-depth and LIVE coverage of Budget 2023:
Read Less